Creating Affluence The A-Z Steps To A Richer Life
              by Deepak Chopra
A  very interesting book connecting science with consciousness and the unlimited abundance on Earth and the Cosmos.
Deepak Chopra
Deepak Chopra, M.D., F.A.C.P., is the co-founder of the Chopra Center for Wellbeing, the founder of the Chopra Foundation, and a world-renowned pioneer in integrative medicine and personal transformation. He is board certified in internal medicine, endocrinology, and metabolism. He is a Fellow of the American College of Physicians, a member of the American Association of Clinical Endocrinologists, and a clinical professor in the Family Medicine and Public Health Department at the University of California, San Diego.
He is the author of more than 85 books translated into over 43 languages, including numerous New York Times bestsellers. His recent books include You Are the Universe, co-authored with Menas Kafatos, Ph.D.; Quantum Healing (Revised and Updated): Exploring the Frontiers of Mind/Body Medicine; and The Healing Self, co-authored with Rudolph Tanzi, Ph.D. Learn more at www.deepakchopra.com.
Beginning of Creating Affluence
In the beginning, Deepak Chopra talks about how we have the ability to create ourselves, and how all matter is made out of the same material according to science and physics. The basic material of the world is made of non-material. He also talks about the infinite universe and the abundance of the universe. Everything is made of energy and information, including thoughts.
The A-Z Steps
He says it is important only to know what these steps and to be aware of them, but not try to force thinking about them consciously all the time. It is enough to know it and the knowledge absorbs into our body. Just re-read this list every day. In this he goes into steps of reaching abundance by follow steps made in a A-Z format.
The Third Part of Creating Affluence
Deepak Chopra talks about meditation, consciousness, and awareness. He explains the Quantum Field in more detail. He also talks about sub-atomic particles and relation to the infinite universe. He also explains how sub-atomic particles only shows themselves when something is observing them. Proving that attention can manifest things in material observation.
What I Like About Creating Affluence
I love how he ties science and facts in teaching something is usually considered metaphysical. For people who have a hard time conceiving ideas that are not logical, Deepak Chopra puts this is in a very logical way. He explains the steps very thoroughly in a way that makes sense.
What I Do Not Like About Creating Affluence
If I had to absolutely pick on thing I do not like about this book, it would only be this. I tend to get lost occasionally when talking about scientific theories and scientific terminology. The very thing I love about the book is also the thing that get my mind wandering off about something else. That is no fault of the author, just my attention span.
My Recommendation
I would give this big 4 out of 5 stars. It is small enough to re-read anytime you want to, another aspect I love. You can give yourself a constant reminder. Only reason I didn't give it 5 stars is as I said above my attention span. So, yes I would highly recommend this book, especially for the logical mind who are waking up to spirituality.
Click On The Picture Below to Purchase Creating Affluence by Deepak Chopra
Clicking the below picture will open up to another website. BlissedMind.com is not responsible for your purchase. May you be blessfully blissed and prosperous.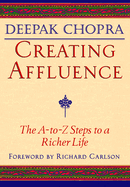 Please follow and like us: